Though once believed to really only affect older men with history of tobacco use, oral cancer cases have increased over recent years. Each year, more Americans are affected by the disease, which warrants the need for annual oral cancer screenings for patients between the ages of 25 and 50. Though it can be treated when caught early, oral cancer can be quite devastating if it's addressed too late. Fortunately, we are here to help!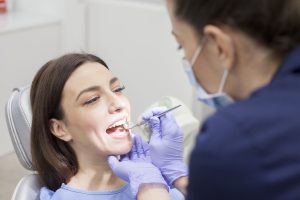 At Quality Dental Care, the oral health of each and every one of our patients is always our first concern, and that doesn't only apply to clean teeth! We're well aware of how serious oral cancer can be, but with our technology and regular visits from you, we can ensure you remain free of oral cancer. Take a moment to learn more on the importance of oral cancer and how you could be at risk.
Oral Cancer in Numbers
As mentioned, oral cancer was once believed to mainly affect older men who've had a long history of tobacco use. However, this is unfortunately no longer the case. Though oral cancer is indeed more common in men than that of women, anyone between the ages of 25 and 50 should have oral cancer screenings done once a year. In fact, oral cancer cases have increased in younger people over recent years. To put things into perspective, take a look below at the numbers regarding oral cancer:
It's estimated that just under 50,000 Americans will be diagnosed with oral cancer in 2016.

Within this, nearly 10,000 cases are expected to be terminal.

Worldwide, over 450,000 cases are found each year
While these numbers are concerning, catching oral cancer in its early stages is common, and when it is caught early, the successful treatment rate is quite high. Actually, about 84% of cases can be caught early and successfully treated.
Risk Factors for Oral Cancer
Here at Quality Dental Care, we utilize the Velscope screening device, which uses fluorescence technology to highlight all cancerous and even precancerous cell changes within your mouth. Though this is a highly-effective tool, it's a good idea to familiarize yourself with the risk factors associated with oral cancer. See below:
Age – patients 40 years and older are more at risk

Smoking and other tobacco use

Gender (men are more prone)

Poor diet

Excessive exposure to the sun
Get Oral Cancer Screenings with Quality Dental Care!
As you can see, there's really no reason to skip out on oral cancer screenings. If you're between the ages of 25 and 50, an oral cancer screening could be quite beneficial—especially if we catch it early. But we can only do so if you come in for a visit!

Contact us today to schedule your oral cancer screening with our Velscope technology. You can also give us a call at 402.431.8844.