Few patients look forward to visiting the dentist, yet many do so to keep their oral hygiene up to par. Some patients, on the other hand, live in complete fear of dental visits, and they'll often do anything to avoid an appointment. The problem is, dental visits are absolutely necessary to achieve clean teeth, and dental anxiety shouldn't deter you from attaining such.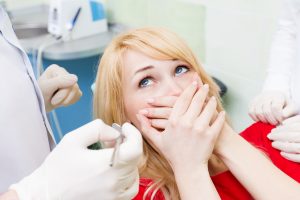 At Quality Dental Care, we know dental anxiety is a common issue in many of our patients and we strive to keep them comfortable and relaxed throughout treatment. Whether it's fear of pain or the thought of a bad experience in the past, dental anxiety can be overcome. Take a moment to learn more about this issue and how you can cope. After all, regular dental visits are essential.
What Is Dental Anxiety?
Often referred to as dental fear or odontophobia, dental anxiety actually affects approximately 15 percent of Americans. While plenty of patients get a bit nervous before a tooth extraction or filling, those who suffer from dental anxiety experience much more than nervousness. With dental anxiety, the thought of visiting a dentist, no matter the reason, is often terrifying and leads to avoiding visits.
Causes of Dental Anxiety
Patients who suffer from dental anxiety may be so fearful for a variety of reasons. Some common causes of this concerning issue are listed below:
Pain

Injections

Lack of personal space

Feelings of helplessness

Negative experience in the past
When you live in fear of the dentist, you're neglecting your oral hygiene. While brushing and flossing are the most effective home practices, regular checkups and cleaning are crucial in preventing tooth decay and gum disease. In short, the more you put off going to the dentist, the more work you'll need done to correct any issues that arise. Fortunately, there are ways to ease the stress.
Coping with Dental Anxiety: Sedation Dentistry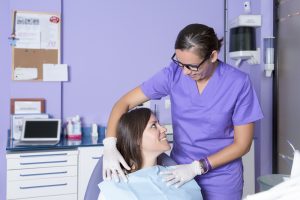 To help patients cope with their anxiety, sedation dentistry is a viable solution. Through the use of a pill, intravenous (IV) sedation, or laughing gas, sedation dentistry helps patients remain calm and comfortable throughout their treatment. No only will it keep you relaxed, sedation dentistry will also allow the dentist to get more work done in a shorter amount of time, which means fewer appointments! Additionally, much of the pain from treatments is eliminated. Simply put, if you suffer from dental anxiety, sedation dentistry may be the answer!
Lose Dental Fear with Quality Dental Care!
As you can see, dental anxiety is a common issue. Though common, it's essential you find a way to cope with your odontophobia. Skipping dental visits will only cause more damage to your teeth and require you to come in for additional visits. Rid yourself of dental fear and try sedation dentistry at Quality Dental Care.

If you're interested in our sedation dentistry services, contact us today or give us a call at 402.431.8844. We do our very best to keep patients relaxed and comfortable at all times!