Meet Dr. Elizabeth Sand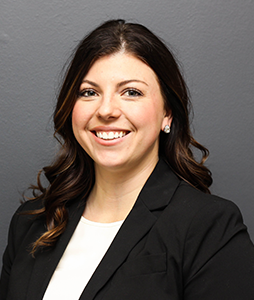 Dr. Elizabeth Sand was born and raised in Lakeville, Minnesota. She moved to Nebraska to attend college at the University of Nebraska-Lincoln, where she graduated with a degree in Nutrition Science and minored in both Spanish and Chemistry. While working on her undergraduate degree she developed a passion for dentistry. Dr. Sand worked and volunteered at dental offices throughout college as a dental assistant and office manager. These experiences solidified her decision to pursue a career in dentistry. Dr. Sand attended the University of Nebraska Medical Center College of Dentistry in Lincoln. While attending dental school, Dr. Sand was involved in the Nebraska Student Dental Association where she held a position as an officer. Dr. Sand was grateful to be able to represent UNMC College of Dentistry at many national conferences.
Dr. Sand enjoys learning new, cutting edge dental techniques and technologies. Having recently graduated, Dr. Sand is able to apply the most up to date procedures into her everyday practice. She uses what she has learned to help make patients' experiences as comfortable and efficient as possible. She enjoys all aspects of dentistry, but especially working with children and cosmetic dentistry. Dr. Sand loves the relationships that dentistry allows her to build with her patients.
Dr. Sand is excited to practice in the Omaha area, a place she has called home for the past 10 years. She resides with her boyfriend, Travis, and their dog, Nino, in the Millard area. They enjoy spending time together going on walks, camping, working out, and traveling. Dr. Sand likes to cook and bake, read a good book and is currently training for a half marathon. Dr. Sand has volunteered with Big Brothers Big Sisters of Omaha, Kaboom playground builds, and volunteered her clinical skills at Nebraska Mission of Mercy clinics and Lincoln's People City Mission Dental Clinic.